Tour of Florida – Discover Amelia Island
Our recent attendance at the 2018 Florida Governor's Conference on Tourism was inspiring, to say the very least. Based on the information we gathered at the event, we have selected a few highlighted locations to spotlight on a virtual "tour" of Florida. These articles will be released in a series – each featuring a different location. For more information on the destinations we're featuring, please click here. For now, please enjoy our very first feature on Amelia Island. Please note – information contained in this feature is not based on firsthand experience, but from promotional materials put out by representatives of the featured location at the 2018 Governor's Conference. 
-OVERVIEW-
Amelia is 13 miles long and two miles wide, with preserved park lands at its northern and southern tips, making up nearly 10% of the entire island… Amelia Island is edged with natural Appalachian quartz beaches and framed by sand dunes as high as 40 feet. Amelia Island is consistently ranked among the best of the best, including: one of the Top Beaches in Florida (USA Today, 2017), the No. 4 Happiest Seaside Town (Coastal Living, 2017), one of the South's Best Small Towns (Southern Living, 2016), and seven consecutive years among the Top 10 U.S. Islands (Conde Nast Traveler's Reader's Choice Awards). 
Amelia Island has recently undergone a dramatic overhaul, with hundreds of millions of dollars being invested in "new hotels and restaurants, and massive renovations and expansions", as well as several new attractions.  
Amelia Island is home to more than 90 distinctive restaurants – "from the freshest Florida seafood and authentic Italian and Mexican specialties to fine dining masterpieces and decadent desserts", and an exciting array of events, including "bed and breakfast tours and wine festivals to sport fishing and blues celebrations".  This is not to minimize the rich, alluring history to be found here. Locations like the Palace Saloon (the oldest saloon in Florida still remaining in its original location) and the lighthouse (built in 1838 and considered the oldest structure on Amelia Island) pay homage to the past while blending in transition to modern favorites such as alluring golf and shopping venues. 
"Named in honor of Princess Amelia, daughter of King George II, present-day Amelia Island draws much of its unique charm from its turbulent past and rule under eight different flags of dominion. Today, the island offers a number of ways to explore Amelia's intriguing past". 
-HISTORY-
During the 16th century, France, Spain and Britain extended their quests for land and riches to the newly discovered shores of North America and the land that would become known as Florida. Best summed up as "the French visited, the Spanish developed, the English named, and the American tamed," Amelia's shores were swept by international politics and intrigue. The island's other rulers would eventually include the Patriots of Amelia Island, the Green Cross of Florida, and the Confederates.
Crucial for shipping routes and global power struggles, Amelia was prized as the deepest natural harbor in the South and Florida's passageway to prosperity. Over time, the island has been prized as English plantation land, international port, playground for pioneers and pirates, Civil War fortress, tourist mecca, terminus of Florida's first cross-state railroad and birthplace of the modern shrimping industry. 
Love at First Sight
As early as 2,500 B.C., ancient Timucuan Indians praised the attributes of Amelia Island or "Napoyca."  The seeds of the island's long struggle were planted in 1562, when Frenchman Jean Ribault first landed on the "Isle de Mai" (Island of May).  Spain, too, fell in love and became intent on Christianizing the natives of "Santa Maria," until they swapped Florida with England for Havana. After the swap, British loyalists established plantations for the King and named the island "Amelia" after Princess Amelia, daughter of King George II.
A Checkered Past
Enjoying her simple innocence and peaceful nature, many visitors would be shocked to learn of Amelia's checkered past, when she was little more than a playground for smugglers, pirates and other ruffians, all fighting over her. This rather colorful period began during Jefferson's Embargo Act of 1807, when the island was the border between Spanish Florida and American territory. With all U.S. ports closed to foreign shipping, the island's Spanish harbor of Fernandina became the nation's smuggling center for slaves, liquor and foreign luxuries. The area now known as Old Town once attracted racketeers from around the world. The bluff overlooking the San Carlos Military Site was lined with bordellos. Eventually Amelia's town of Fernandina was forced to clean up its act when it ceded to the United States in 1821. This unruly past was eventually forgiven, as Amelia Island was named "Queen of Summer Resorts" in an 1896 issue of American Resorts. The magazine claimed that nearly 50,000 wealthy northerners had voyaged from New York to Fernandina on the Mallory Steamship Line, making Amelia Island Florida's first tourist destination.
Unfinished Business
At the north end of the island stands Fort Clinch, named for General Duncan Lamont Clinch, an important figure in Florida's Seminole War of the 1830s. Construction began on the fort in 1847 and continued during the Civil War but was never completed. Occupied by Confederate forces when the war began in 1861, it was taken by federal troops when a withdrawal was ordered by General Robert E. Lee just one year later. The garrison operation was greatly reduced in the years following the Civil War and eventually ceased altogether. In 1898, the fort was reactivated for several months during the Spanish-American War and during World War II as a communications and security post. In 1935, the state of Florida purchased 256 acres which included the abandoned fort. This marked the beginning of a program that led to the development of one of the first and finest state parks in Florida. Formally opened to the public in 1938, Fort Clinch State Park offers pristine beaches, trails, ponds, salt marshes and the island's only campgrounds, as well as reenactments held the first weekend of the month at the remarkably preserved Fort Clinch.
Historic District
The island's charming Victorian historic district began to grow during the post-Civil War era, as soldiers and their families returned to build homes and businesses. Today, the 52-block historic district still blends past, present and future, where Victorian style meets modern day marvels, and where islanders gladly share the importance of Amelia's diverse and sometimes tumultuous past. Picturesque downtown Fernandina Beach is now home to a unique collection of independently owned shops and restaurants housed in multi-colored brick buildings dating from 1873. Fernandina Beach has 450 ornate Victorian structures that were built prior to 1927, approximately 300 of which are listed on the National Register of Historic Places.
Making Tracks
Although later the starting point of Florida's first cross-state railroad, in 1890, Amelia Island was bypassed when American industrialist Henry Flagler extended his railroads to lure tourists to more southern cities along the state's east coast. In doing so, Flagler spared the island from mass modernization and protected its' enduring Victorian charm, but passenger service to Amelia would eventually be eliminated in the 1930s. David Yulee, heralded as the "Father of the Florida railroad," later made Fernandina Port the hub of his shipping and railroad venture and the beginning of Florida's first cross-state railroad. Yulee's idea of connecting the Atlantic Ocean and the Gulf of Mexico with a railway system was the foundation for the plan that eventually saved shippers the long and costly trip across the treacherous Florida straits. Today, the historic Fernandina Beach Railroad Depot, lovingly restored to its original historic charm, serves as the Amelia Island Welcome Center and an icon on Fernandina Beach's waterfront. 
Proud Heritage
In the mid 1930s, the founders of Afro-American Life Insurance bought 200 acres on the southern end of Amelia Island. A.L. Lewis, one of the founders, was thought to be the first black millionaire in Florida.  The 200 acres became known as American Beach, a glorious oceanfront haven for African Americans during the Jim Crow-era of segregation. In its heyday, its homes, restaurants and nightclubs attracted musical superstars such as Cab Calloway, Ray Charles and James Brown.
In 2010, American Beach celebrated 75 years. Today, approximately 100 homes remain from the 1940s and 1950s, and American Beach is the first stop on Florida's Black Heritage Trail. Though its popularity faded with the desegregation, residents such as MaVynee Betsch, great-granddaughter of A.L. Lewis, worked to keep its history alive. MaVynee made her career as an opera singer throughout Europe, and upon her return became known as "The Beach Lady" due to her unwavering devotion to environmental causes. Her life's work and personal resources were the catalyst for the preservation of the great sand dune, NaNa, a protected, majestic and spiritual presence on American Beach. Betsch died in September 2005, penniless, after devoting all of her time and money to her cause.  
The American Beach Museum, located in historic American Beach, remembers the historic African American journey of vision, struggle, joy and triumph and celebrates the memories and memorabilia of several generations of African American residents and visitors, as well as the preservation of the historic site.
Birth of an Industry
In the early 20th century, Amelia Island became the birthplace of the modern shrimping industry, as innovators replaced rowboats and cast nets with power driven seines and otter trawls. Today, only a handful of shrimp trawlers return to the downtown docks with a brilliant sunset backdrop. In its heyday, nearly 80 percent of Florida's sweet Atlantic White Shrimp were harvested in Amelia's waters and Amelia's own Burbank Trawl Makers (locals call it The Net House) was one of the world's largest producers of hand-sewn shrimp nets. As you might expect, the island's most popular annual event is the historic Isle of Eight Flags Shrimp Festival. Each year, more than 100,000 island locals and visitors gather to celebrate Amelia Island's critical crustacean with parades, fireworks, contests, and of course, fresh seafood.
Two Centuries of Old Town
On the north end of the island, visitors can explore Old Town, the last Spanish Town in the Western Hemisphere in 1811. Old town was the original encampment of the Timucuans and at one time featured the Spanish Fort San Carlos.  In 2011, Old Town celebrated its 200-year anniversary. 
History has made its mark on every inch of the island, but to truly appreciate its jumbled past requires a visit to the Amelia Island Museum of History, Florida's first spoken history museum. Here, in what was once the county jail built in 1935, the history of the Isle of Eight Flags comes alive through exhibits, historical objects and archaeological finds. The museum also conducts informative and entertaining walking tours of the historic district and guided ghost tours. These narrated 90-minute walking tours through historic Fernandina Beach will fill you with the legends of the island and thrill you with tales of the island's supernatural history. The museum also offers cell phone walking tours, allowing visitors to explore Fernandina Beach history at their own pace.
-FAMILY FUN-
Fort Clinch State Park
Fort Clinch is one of the most well-preserved 19th century forts in the country. Daily tours with period re-enactors depicting garrison life bring the fort to life for visitors. Sunbathing, swimming, and beachcombing are popular on the park's beach, while anglers fish from the pier or take advantage of excellent surf fishing. Hikers and bicyclists can enjoy a six-mile trail through the park and view some of the tallest sand dunes in the state of Florida. Self-guided nature trails provide opportunities to learn about and observe native plants and wildlife. Two full-facility campgrounds and a youth camping area provide overnight accommodations for family adventure. 
Water Works
No visit to Amelia Island is complete without a tour of the surrounding scenic waterways. Tours from Amelia River Cruises & Charters are fully narrated, as you explore the backwaters of Amelia Island and Cumberland Island and cruise up Egan's Creek to the Amelia Island Lighthouse. Families can enjoy a guided Jet Ski tour with Fly Fishing Adventures or come face to face with egrets, herons and perhaps a dolphin, manatee or sea turtle with the fine folks at Kayak Amelia or Amelia Island Kayak Excursions, as they navigate the tranquil salt marsh of the Talbot Islands State Park, Timucuan Preserve and Egan's Creek. Amelia Boat Rentals offers boat rentals – with or without a captain – to observe native wildlife and take in the island's natural beauty from the water. Kayak Amelia also offers guided stand–up paddleboard (SUP) tours. Backwater Cat Adventure provides one of the newest and most unique boat tours on Amelia. Visitors pilot their own two-person "Craigcat" boats, which are very safe and easy to drive, even for inexperienced boaters. A guide leads the way on an interactive adventure with local wildlife and beautiful scenery.
High Flying Fun
Thrill-seeking families can take their vacations to a whole new level with an aerial tour of Amelia Island. Hang Glide USA offers trike–flying tours of the island, giving an unforgettable, bird's-eye view of gorgeous scenery and shimmering waters. Knowledgeable tour guides showcase points of interest, as you wave to friends and family below. Guests must be at least 14 years old to begin flight training (including "Introductory Flights") and at least 16 in order to fly solo.
Tour by Land
Kids of all ages enjoy taking an exciting Segway tour of Amelia Island with Kayak Amelia or Omni Amelia Island Plantation. Kayak Amelia offers excursions through Fort George Island, one of the most ecological and historic places along the East Coast. The Omni Amelia Island Plantation also offers daily Segway tours at Amelia's Wheels. Guests can enjoy one of several Segway tour options, including tours through the maritime forest to the beach or discovering wildlife around the resort. Each tour includes a full orientation and one coach for every four riders. 
Saddle Up
Amelia Island is one of the few places in Florida where you can ride horses on the beach. Cowboys and beach boys alike have several options on Amelia, including Kelly Seahorse Ranch and Ride the Beaches of Amelia Island, both with a stable full of gentle, well-trained horses. A beach ride is a truly memorable way to enjoy the island's fantastic white-sand beaches and the beauty of the ocean.
Resorting to Fun
Guests of The Ritz-Carlton, Amelia Island can enjoy special programs designed specifically for the youngest members of the family. The Ritz Kids program is an exclusive supervised, educational children's program designed specifically for guests ages 5 through 12. The program allows parents to play while children stay with trained and knowledgeable counselors. Kids can spend the day exploring dune life and making shark teeth necklaces or attend a "Kids Night Out" dinner party that includes treasure hunts, games and movies. "Our Space" is a fun-filled game room for families, with a cool, modern look and the latest technology featuring flat screen televisions, gaming systems, and timeless favorites like air hockey. Our Space also features a private movie theater and a large collection of DVDs. Over at Omni Amelia Island Plantation, families will find a number of unique activities, including Camp Amelia and Camp Amelia @ Night, featuring arts and crafts, nature activities and more. Several "Just for Families" events take place daily and during the evenings, including beach fires, luau games, and dive-in movies. A Junior Adventures program will allow older kids to explore the Gamers Lounge, offering a teen hangout with several game consoles, foosball and more. The resort also offers family fun activities for all ages, including kayaking, Segway and nature tours.
Fernandina Walkabout
Offered by the Amelia Island Museum of History, walking tours up Historic Centre Street in Fernandina beach and into the Silk Stocking District introduce visitors to some of the many great historical figures who have influenced the architecture and business on the island. These tours can be modified for children. For those who prefer a more supernatural look at history, the museum also offers weekly ghost tours with thrilling tales of Amelia Island's legendary past. The museum also offers cell phone tours for guests to explore downtown at their own pace. Visitors can also take a self-guided tour of the Historic District with the Fernandina Historic District Tour brochure available at the visitor center located in the historic train depot on Centre Street. Back at the museum, trade your walking shoes for sea legs aboard the Discovery Ship exhibit. Here kids of all ages can embrace their inner sailor – or pirate – as they steer the S.S. Margery through time in a clever interactive experience that includes a trunk full of old fashioned seafaring costumes.
Put It In Park
Known for her famous state and national parks, Amelia is also home to a delightful collection of parks and playgrounds, where young travelers can run wild and free. Most notable is the universally accessible Pirate Playground in Fernandina Beach, which artfully captures the island's history, nature and culture to create a one-of-a-kind play experience. Also, Fernandina's all-new Egan's Creek Park is nearing completion and will feature a fitness trail with exercise stations, yoga garden, fishing and birdwatching docks, and a kayak launch into Egan's Creek opening a world of outdoor adventure.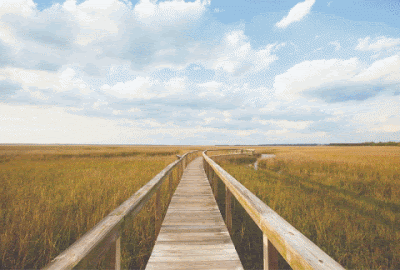 -SPORTS-
Paddle for Pleasure
Thanks to the skilled guides at Kayak Amelia, Omni Amelia Island Plantation and Amelia Island Kayak Excursions, visitors can get up close and personal with some of Amelia's wilder residents, including egrets, herons, dolphin, manatee and sea turtles. Suitable for most ages and experience levels, the tours explore various aspects of Amelia Island's inland waters, including the tranquil salt marsh of Talbot Islands State Park, Timucuan Preserve and Egan's Creek. Take in the island's natural beauty and wildlife on a standup paddleboard (SUP) eco-tour with Amelia Island Paddle Surf Company. Vendors also offer kayak and SUP rentals, for self-guided exploration or a little friendly competition. 
Tee Time
It's no competition: Amelia Island is truly a golfer's paradise. Named a "Silver Medal Golf Resort" by Golf Magazine, Omni Amelia Island Plantation boasts 36 championship holes. Oak Marsh, designed by Pete Dye, offers challenges for novice and professional golfers alike. Omni guests also have access to Long Point, an exclusive member's course designed by Tom Fazio, offering 18 holes among primal marshlands and the towering sand dunes of the Atlantic. The Omni Amelia Island Plantation Golf Academy offers students individualized one-on-one and take-home video instruction. The Golf Club of Amelia Island features an 18-hole championship course located next to Summer Beach Resort and The Ritz-Carlton, Amelia Island. Designed by Mark McCumber and Gene Littler, the course takes full advantage of the natural terrain offering spectacular views. Amelia River is an 18-hole, 6,823-yard Tom Jackson design and is renowned as one of the area's best conditioned courses with incredibly smooth TifEagle greens, sculpted around a forest of majestic Live Oaks, and Sabal Palms.  The 27-hole Fernandina Beach Golf Club is considered one of the finest public courses in the Southeast. No wonder the island is a popular choice for great golf getaways. 
Trail Mix
Amelia is crisscrossed with a lacework of trails ideal for two-wheeled adventure – from rugged, winding routes through century-old, moss-laden live oaks and natural waterways, to smooth, scenic coastal paths. There are several island shops that rent bicycles, plus a number of bed and breakfast inns offer them free-of-charge, and resort properties can arrange bike rentals on- or off-site. Fort Clinch State Park has mountain bike and hiking trails, as well as beach rides or trail rides through maritime forest. The Amelia Island Trail is part of a growing trail network called the East Coast Greenway that stretches from Florida to Maine. It runs from Peters Point Beachfront Park to Amelia Island State Park. Much of the paved, tree-lined route parallels Highway A1A, a scenic byway. The Omni Amelia Island Plantation has seven miles of trails throughout its property and offers bike and island hoppers rentals, as well as guided Segway tours. Amelia offers Segway excursions through Fort George Island, one of the most ecological and historic places along the East Coast. No matter which paths you choose, Amelia delivers a "wheely" good time. 
Holding Court
The Omni Amelia Island Plantation Racquet Park has been recognized as one of the world's finest, with a variety of facilities catering to every level of play, and has been ranked the No. 2 tennis resort on Florida's East Coast by Tennis Magazine. The 23 Har-Tru, fast-dry clay courts are shaded beneath majestic oaks that allow for an enjoyable match. Players "love" day or night play. Since its grand opening in 1974, some of the greatest names in tennis have graced center court, including Graf, Navratilova, Evert, Seles, Sampras and Agassi. Guests can learn to play like the pros with professional instruction provided by Cliff Drysdale Tennis.
What a Dive
For an unforgettable glimpse of the underwater world off Amelia Island, adventure lovers can enjoy a diving lesson to explore shipwrecks, natural and artificial reefs. The area is known among divers for its abundance of wildlife, including sea turtles, dolphin, grouper, moray eels, stingrays and sharks. The island is home to a dive club and full-service dive shop for easy equipment sales or rental, repair and PADI Dive Certification. 
Something Fishy
Amelia attracts a lot of fish, and those who love to catch them in the island's salt marshes and oyster beds, fishing from banks, boats, bridges, bows and beaches. There are ample places for bring-your-own boaters and numerous fishing charters available. Northeast Florida waters are home to big game fish such as blue marlin, sailfish, wahoo, tuna, cobia, mahi-mahi, king mackerel, grouper, red snapper and sharks. Naturally, the island hosts a number of sport fishing tournaments throughout the year. 
Play Pétanque or Pickleball
Amelia Island has come to be recognized as the United States' unofficial capital of pétanque, a social sport that is a combination of horse shoes and bowling, popularized on the French Mediterranean coast in 1907. Teams of players compete and throw hollow steel balls across a hard-packed dirt course, aimed at a colorful wooden ball called the pig. Players and spectators alike are drawn to the waterfront courts at Fernandina Harbor marina, where the Amelia Island Boules Club holds weekend pickup games. The public is always welcome to join in – the sport, similar to bocce, is easy to play, but difficult to master. Each fall, Amelia Island hosts to the annual Pétanque America Open, the largest pétanque event in the Americas, drawing world champions and players from across the 50 states and more than 13 countries. If you're prone to other pleasant pastimes plagued with 'P's, perhaps play pickleball. Amelia has four public courts available at Central Park and additional courts available to guests of the Omni Amelia Island Plantation Resort. 
Fan Central
Amelia Island is just a 45-minute drive from Jacksonville's EverBank Field, home of the NFL Jacksonville Jaguars and a year-round lineup of college and professional sporting events. Whether it's a college bowl game or monster truck rally, spectators, friends and fans frequently make Amelia their home base. The island's collection of award-winning hotels, resorts and inns offer a variety of special rates and packages for many of these major events, making Amelia a perennial fan favorite. 
-DINING-
SALT
The culinary team at the AAA five-diamond rated SALT, the signature restaurant at The Ritz-Carlton, Amelia Island, commands a unique menu with seasonal changes each week, more than 500 wines, and a growing collection of salts from around the world. Sophisticated design and an elegant oceanfront ambience make SALT one of many local favorites. SALT features simple ingredients from the earth and the sea, properly seasoned, artfully prepared and served in a contemporary coastal setting. Among the many popular items on the menu is Tasmanian Crab on Avocado, Braised Kobe Beef Short Rib, Five Spiced Ahi Tuna, and Rum Raisin Soufflé.
Burlingame Restaurant
Located in the historic downtown district, Burlingame Restaurant offers relaxed fine dining featuring seasonally-inspired menus created by an emerging, young local chef. The made-from-scratch, modern American menu is small by design to focus on a handful of exquisite dishes each season, many of which are the chef's own creative twists on classics. Dinner is served in three distinct indoor dining rooms and outdoor deck Tuesday through Saturday. It is also a popular option for enjoying a cold craft beer or glass of wine at the bar or on the deck beneath the magnolias and sprawling live oak. At Burlingame, fine food and a casually elegant setting are the makings of your special dining experience.  
Gilbert's Underground Kitchen
Gilbert's Underground Kitchen is a neighborhood-driven Deep Southern American restaurant, offering Fernandina Beach residents and visitors alike the ideal spot to grab a seasonal, comforting and delicious meal. Celebrity Chef Kenny Gilbert rose to fame in 2010 as one of the fan favorites on season seven of Bravo's "Top Chef." Since then, he has cooked for the likes of Oprah Winfrey, Gayle King, Stedman Graham, Samuel L. Jackson and A.J. Calloway. Underground Kitchen (UK) also features a special weekly pop-up menu based on the best local produce availability to showcase Kenny's diverse culinary talents.
David's Restaurant
One of the island's most popular fine dining establishments, David's is known for exemplary service, high quality food with a gourmet presentation and incredible attention to detail. The spectacular steakhouse and seafood menu is the work of David's team of talented, dedicated chefs. The dinner menu features items such as Filet Oscar, Rack of Lamb, Dover Sole, Signature Dish Seafood Risotto and other delicacies from around the world. David's Restaurant also features local shrimp and ingredients from local organic growers.  A wine room accommodates up to 12 guests for private dining, wine tastings and a signature Chef's Table. An additional banquet room can hold up to 60 guests for private events, business meetings and luncheons.
BarZin Bistro & Wine Bar
On the south end of the island, BarZin Bistro & Wine Bar offers guests a diverse menu of wines, local brews and Saki martinis. The neighborhood bistro features a relaxed, upbeat atmosphere, and offers indoor and outdoor dining options. Menu items include French Country Salad, with farmers market greens, pickled red onion, pear, gorgonzola, applewood-smoked bacon, walnuts, warm vinaigrette; and chicken with spinach, white bean, swiss chard, pancetta and broth. Top the meal off with a vanilla creme brulee or flourless chocolate cake. Bar Zin is open for lunch, happy hour, and dinner.
Le Clos
Le Clos is a Provencal-inspired restaurant serving exquisite seafood, pasta and meat dishes such as seared duck, roasted salmon, specialty meatloaf and pan seared certified Angus beef. Housed in a charming, intimate 1906 cottage in the heart of Fernandina Beach, Le Clos is owned and operated by Katherine Ewing, who has received full degrees in both pastry and cuisine from Le Cordon Bleu and L'Ecole de Gastronomie Francaise Ritz ~ Escoffier, Paris. Le Clos also offers an extensive wine list to beautifully complement their menu selections.
España Restaurant & Tapas
Visitors with a craving for traditional Portuguese and Spanish cuisine will love España Restaurant & Tapas. The recently renovated restaurant offers guests an intimate indoor setting in two redecorated dining rooms or a newly revamped garden area.  España provides a menu filled with an abundance of hot and chilled tapas selections, a variety of extravagant salads, and of course Spain's most notable dish, paella. The restaurant features specialties like Mero a Lisboeta, which features fresh grouper roasted with tomato, onion, capers and olives with white wine and herbs; as well as daily Chef's Specials. The restaurant also offers homemade sangria and a delicious selection of desserts.
Joe's 2nd Street Bistro
Situated in the heart of Fernandina Beach, Joe's 2nd Street Bistro offers elegant cuisine, a relaxed setting and historic charm. Owner and Executive Chef Ricky Pigg offers patrons a creative menu for lunch and dinner, featuring local seafood and shrimp, as well as New American cuisine with an international flair. Menu items include Chicken Cordon Bleu, Seafood Bouillabaisse, Grouper Filet Grilled in Corn Husk Wrapper, and Amelia Island Shrimp and Grits. Patrons love the fresh-baked bread and homemade ice cream that can be enjoyed on the New Orleans-inspired courtyard or inside the restored 1900's home.
Verandah
Overlooking the tranquil Racquet Park tennis facility, the Omni Amelia Island Plantation's Verandah restaurant offers diners a breathtaking view of the natural canopy of live oak trees from their table. The upscale restaurant specializes in southern inspired fare and fresh traditional seafood. With the nearby Atlantic Ocean and neighboring farmers providing local fare, the Verandah features an array of the areas freshest seafood in a family-friendly setting. Verandah's menu offers mouthwatering dishes, such as Smoked Mullet, Pink Snapper and Shrimp & Grits.
Centre Street Eateries
The downtown historic district of Fernandina is home to a mouthwatering collection of cafes and eateries as diverse as the town's steady stream of visitors. Barbeque fans can stop by the Happy Tomato for a taste of Richard Bolton's down–home cooking or stop in at Café Karibo for a spicy combination of Cajun gumbo, chili, salads, wraps, and a full espresso bar. At the end of Centre Street, Brett's Waterway Café serves a variety of dishes in a casual dining experience, where guests can enjoy views of Fernandina Harbor and the marina on the Amelia River. Another of Amelia's many dining hotspots, Pablo's Mexican Restaurant, Grill & Cantina is dedicated to serving the best in fresh, Mexican-style food. Pablo's is the perfect place for a friendly fiesta, where Shrimp a la Diabla, Seafood Fajitas, and Fish Tacos go great with imported beers served indoors or in the open-air courtyard.
Chef's Specials
The island's tradition of culinary excellence has produced a number of unique events and experiences catering to the foodie in everyone. In downtown Fernandina Beach, the Amelia Island Culinary Academy serves up a variety of lively and informative demonstration and participation classes conducted by former Ritz-Carlton standout Chef Bill Thompson. At The Ritz-Carlton, Amelia Island Salt Cooking School, guests learn to unlock the secrets of contemporary American cuisine under the instruction of Rick Laughlin, the Chef de Cuisine of the AAA Five-Diamond restaurant, Salt. Students receive personalized training through a unique hands-on approach to learn how to taste and flavor food while preparing a four-course themed meal. At the Omni Amelia Island Plantation Resort, visitors can join one of their chefs for a tour of "The Sprouting Project," a unique take on sustainability that features an aquaponics greenhouse, organic garden, apiary and barrel room. Monthly dinners provide a genuine farm-to-table dining experience in this "chef's playground." And in January, tummies rumble in anticipation of Amelia Island Restaurant Week, a 10-day culinary showcase featuring special events and fixed lunch and dinner menus at a wide selection of the island's most popular and award-winning dining establishments. Feast your eyes at www.ameliaisland.com/yummy.
-ACCOMMODATIONS-
World-Class Luxury
Amelia Island is home to three award-winning resorts, each nationally and internationally recognized by the media, builders associations, environmental groups and the Florida Governor's office.  Located on the southern end of the island, the resorts boast award-winning accommodations, meticulously designed golf courses, luxurious spas, restaurants and shops, and miles of sandy white Atlantic shoreline.  
Masterfully woven among majestic Live Oaks and the island's natural landscape, the 1,350-acre Omni Amelia Island Plantation Resort overlooks the Atlantic to the east and marshland and the Intracoastal Waterway to the west.  In 2013, the Omni Amelia Island Plantation re-opened following an extensive $85 million re-imagination. The resort now offers an additional 155 oceanfront guest rooms, including 27 suites for a total of 404 oceanfront guest rooms; a new arrival experience featuring a beautiful lobby with floor-to-ceiling windows overlooking an infinity edge pool, large family pool, kid's splash area and the Atlantic Ocean; nine food and beverage offerings; and an expanded 80,000-square-feet of meeting space.  Lodging throughout the property, including one-, two- and three-bedroom villas at The Villas of Amelia Island Plantation, feature private balconies or patios with beautiful views of the ocean, tree canopies or marshlands.  Guests enjoy access to endless outdoor activities, including 36 holes of championship golf, 23 Har-Tru clay tennis courts, nature trails for hiking and biking, and 20 swimming pools.  Other amenities include a health and fitness center, age-specific recreation programs, nine dining opportunities, a nature-inspired signature spa, boutique shops and more.
Nestled between a championship 18-hole golf course and the Atlantic Ocean, The Ritz-Carlton, Amelia Island provides a beautiful coastal getaway.  Each of the beachfront resort's 446 spacious guest rooms provide breathtaking views of the ocean and feature trademark luxuries such as plush bathrobes, marble baths and 24-hour room service.  Amenities include beautifully landscaped golf, a four-court tennis complex, state-of-the-art fitness center, spa, and indoor and outdoor pools.  Guests can also enjoy the resort's four restaurants and lounges.  The resort also offers more than 35,000 square feet of meeting space and several outdoor venues for events. In 2012, The Ritz-Carlton, Amelia Island finalized a five-year, $65 million investment with the redesign of its 446 guest rooms. The initial phases added a lavish spa, dazzling new lobby bar, additional ballroom space, a sophisticated sports bar and updated restaurant concepts.  
Summer Beach Resort offers oceanfront or resort view accommodations in private villas, townhomes and luxury condominiums adjacent to The Ritz-Carlton, Amelia Island.  Surrounded by the island's lush foliage and the Atlantic waters, they offer an exclusive collection of privately owned one- to four-bedroom units within several gated communities, each with its own private swimming pool.  All units have been professionally decorated to the owner's individual taste and are fully equipped including washers and dryers and/or private patios or balconies in which to enjoy some fabulous views.  In addition to all the comforts of home, guests enjoy access to a centrally located ocean front Beach Club pool and snack bar, two lighted tennis courts, and discounted golf at one of Florida's finest courses.  The Golf Club of Amelia Island gives golfers a welcome 18-hole challenge, courtesy of course designers Mark McCumber and Gene Littler.  
Historic Treasures
Each of Amelia Island's six charming bed and breakfast inns offers its own distinct character –with secret gardens, shady courtyards, porch swings and rockers, fountains, stately architecture, and distinctive décor.  Each award-winning property offers daily breakfast, varying from gourmet cooking to a casual breakfast basket, and most offer an evening social hour. 
Visitors who choose the comfort and charm of Amelia's B&Bs will step back in time as they relive stories and events from the island's turbulent past.  One inn served as a stop on the Underground Railroad, while others often hosted American notables such as the Carnegies and Rockefellers. 
Characterized by secret gardens, shady courtyards, porch swings and rockers, fountains, stately architecture, and distinctive décor, the island's B&Bs are treasured as much for their historic beauty and significance as the unsurpassed personal service they provide.  All of the inns provide quick and convenient access to the island's beaches, restaurants, shops and recreational sites, and many offer complimentary bike, movie, and beach equipment rentals.  For a complete list of bed and breakfast inns, visit ameliaisland.com/Accommodations/Bed-Breakfasts.
Simple Comforts
Amelia Island is also dotted with an appealing assortment of familiar chain and other family-owned hotels and motels, giving visitors another option for their unforgettable island vacation.  For families or business travelers on a budget, these properties offer great value without sacrificing service or amenities.  Scattered across the island, these hotels and motels put guests just steps from Amelia's breathtaking beaches, or an easy stroll away from more than 25 restaurants and shops in the historic district of Fernandina Beach.  Each property offers their own unique amenities, ranging from complimentary continental breakfast, Jacuzzi tubs, complimentary Wi-Fi, swimming pools, fireplaces, kitchenettes, fitness centers and more. A full listing of hotels and other accommodators can be found at ameliaisland.com/Accommodations/Hotels-Motels.
Home Away From Home
The island also offers a collection of condominiums, villas, townhouses and other rentals, each combining the comforts of home with special amenities such as colorful cabanas, tennis courts and oceanfront pools. Vacation home rentals, such as Villas of Amelia Island Plantation, Oceans of Amelia, and Amelia Surf & Racquet Club, feature a variety of conveniences providing guests with an ideal home base for an Amelia Island vacation.  Web sites such as AmeliaIslandVacations.com and AmeliaVacations.com allow visitors to choose from a wide selection of vacation home rentals located throughout the destination. Most vacation rentals offer long-term rentals for guests looking for an extended getaway.  A full list of vacation rental properties is available at ameliaisland.com/Accommodations/Condo-Home-Rentals.
Vacation with a Purpose
In October 2014, the Villas of Amelia Island Plantation partnered with The Biggest Loser Resort to offer a new world-class fitness and wellness opportunity on Amelia Island. The Biggest Loser Resort at The Villas of Amelia Island Plantation features a results-oriented program designed to encourage and empower guests to reach and maintain their lifestyle goals. The comprehensive program is inspired by NBC's "The Biggest Loser" and features a highly-certified team of professional coaches and counselors.
For travelers who prefer to bring their four-legged family members along for the run, Amelia Island has several accommodators who welcome pets.  Some go to great lengths to make dogs feel at home, offering special treats, dog sitting service and more.  Nassau County, including the Beaches of Amelia Island, Fernandina Beach (except the beaches of Fort Clinch State Park), and American Beach, allows leashed dogs along the beach. 
Convenient Location
Located off the northeastern tip of Florida on the Atlantic Ocean, and separated from Georgia only by Cumberland Sound, by car Amelia Island is just: 
15 minutes from Interstate 95 

30 minutes from Jacksonville International Airport

20 minutes from the Georgia border 

6 hours from Atlanta and Miami

3 ½ hours from Walt Disney World
More information: https://www.ameliaisland.com/, Twitter, Facebook, Instagram, YouTube.
#Florida #AmeliaIsland #BeyondOrlando #VisitFlorida #reviews #FloridaGovernorsConference